Tip 1:
Zes prachtige en gevarieerde wandelroutes vertrekken vanuit het centrum van het dorp (wegwijzers op het pleintje tegenover Hotel Steffensberg). De wandelingen zijn uitstekend aangegeven met de nummers E1, E2, tot en met E6.
Tip 2:
Voor een verkenning van de belangrijkste historische plekken en de vele vakwerkhuizen van het dorp is de Enkircher Gasschenweg absoluut een aanrader.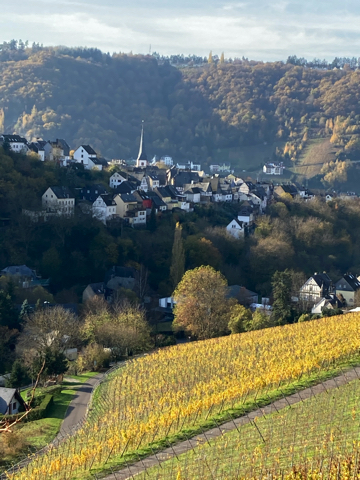 Tip 3:
Als je in de Moezel bent, is een wijnproeverij en rondleiding in een van de vele wijnkelders natuurlijk een must . (Wij zijn zelf nogal gecharmeerd van wijngoed Immich-Anker: interessante uitleg in de kelders en mooie proeverij).
Tip 4:
Uiteraard gaat u even bij het toeristenbureau langs om ideeën op te doen. Bijvoorbeeld voor het boeken van een Kellerführung (een kelder-rondleiding).
Tip 5:
Fietstochten langs de Moezel. In de zomer kun je het pontje nemen en de Moezel oversteken naar Kovenig, vervolgens naar links naar het charmante stadje Traben Trarbach of rechts naar Reil en terug naar Enkirch over de brug.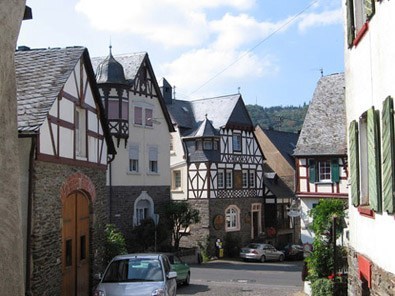 Tip 6:
Enkirch bevat veel restaurants, en vele wijnboeren runnen ook een zogenaamde Strausswirtschaft waar ze vaak zeer verdienstelijke maaltijden serveren bij hun eigen wijnen. Maar als je weer eens iets anders wil, bevelen we zeker aan om een keer bij Pino in het dorp iets af te halen of te gaan eten: pure Italiaanse charme en goddelijke pasta en olijfolie.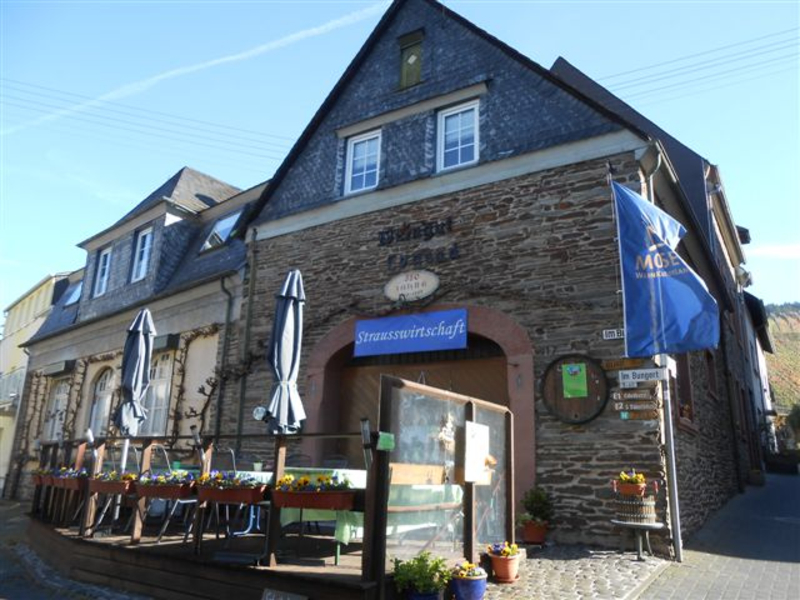 Tip 7:
Voor een toeristisch uitstapje mag een bezoek aan pittoreske stadjes zoals Bernkastel Kues of Zell zeker niet ontbreken. En waarom dit op een zomerdag niet combineren met een boottocht op de Moezel?
Maar ook in de herfst en de winter zijn deze plaatsen meer dan de moeite waard met hun wijnfeesten, kerstmarkten en de fameuze Wein Nachtsmarkt in Traben Trarbach (een wijnmarkt in de doolhof van de vele kelders onder de stad, je waant je in een sprookjeswereld!).
Tip 8:
Vergeet ook niet Kloster Machern met zijn prachtige gelagzaal, een ruim, zonnig terras, brouwerij met bierwinkel, een eigen vinotheke en wandelmogelijkheden in de bossen of wijnvelden.
Tip 9:
Verder kunt u terecht bij de lokale gids Esther Bethge voor interessante uitstappen (mobiele telefoon +49151 17680841).
Tip 10:
En wat is er leuker dan op een zachte avond op een bankje langs de Moezel met een glaasje wijn te gaan zitten mijmeren over de dag of een koele pint te pakken in een Biergarten…?